Welcome to the House of Cider
Our farm shop is well stocked with essential groceries including fruit & veg, eggs, dairy goods, jams & chutneys and many other essential items. Our butchery is also open as normal providing our own home-reared Longhorn Beef, BBQ packs, Breakfast packs and many other locally sourced meats. The Deli counter is stocked with our famous homemade "Dawnish" pasties, homemade sausage rolls and mouth-watering pork pies. You are also able to pick up our full range of ciders as well as assorted soft drinks.
Please respect the social distancing rules when visiting the shop.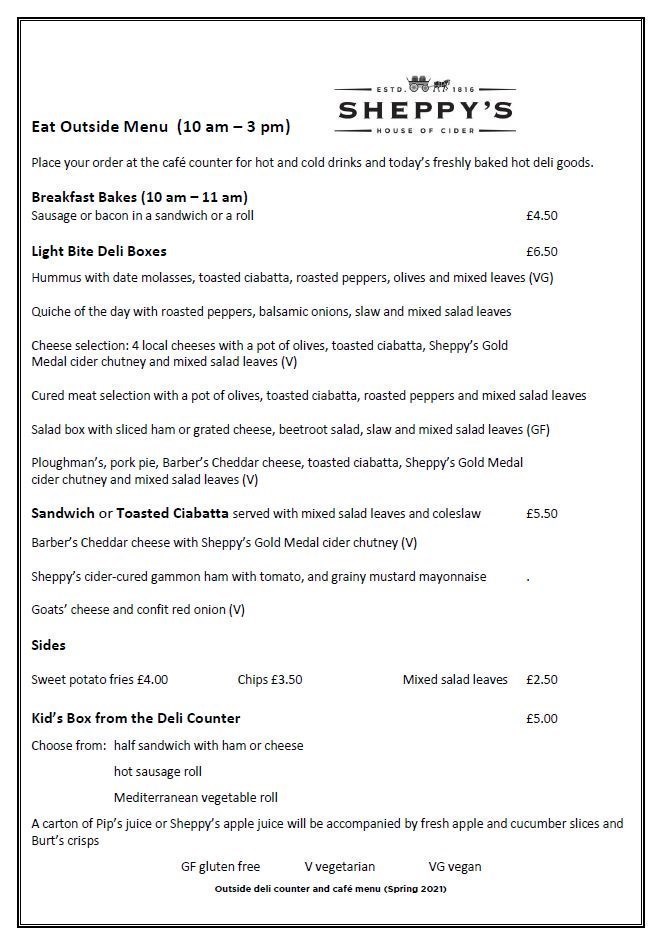 Cafe
VISITING SHEPPY'S CIDER
From 13th April we will be delighted to welcome diners back to the House of Cider. At the moment this will only be outdoor dining until the next set of restrictions are lifted. You can find a sample outdoor dining menu here.
However, if like of us you cant wait and need something to look forward to, then check out our events such as: Vintage High Tea and Afternoon Cream Tea on the 22nd May 30th May.
Many further events are being planned so pleas make sure you keep visiting so you don't miss out!
We have measures into place for our customers and staff, so we can safely operate and we will be following strict Government guidelines on social distancing.
We will adhere to government guidelines at all times and customer and staff safety will be paramount.
We encourage visitors to enjoy farm walks or our farm trail quiz for families, including our museum, which is currently free to enter.